The entry posted a few minutes ago urged readers to subscribe to Resurgence. So time for a brief confession and a decision. When I chose to cut our income in half to pursue what I felt more compelled to do with the remaining time I have left, we've cut back on some things. In January I let my subscription to Resurgence lapse, thinking I would simply utilize the library's copy. That's how I came upon the piece by Charles Eisenstein in the previous entry. But most of Resurgence' material is not freely available on the web. But upon going back this afternoon I see a new issue has been added over the weekend (March/April).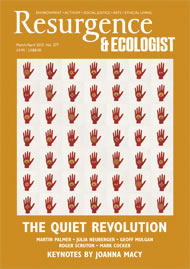 In it, and freely available is the editor's column by Satish Kumar. Satish celebrates his 40th year of editing this journal, and his column
"Reaching Out"
that I just read inspired me to re-subscribe. I hosted Satish's visit
to
MSU to celebrate Gandhi's birthday a number of years ago, and he is truly one incredible, genuine, peaceful human being. Read his
column
which describes the magazine and his involvement with it and I also highly recommend his memoir,
You Are, Therefore I am
.
Resurgence has been perhaps the key connector for me with ideas that have deepened how I think about sustainability over the past 20 years. If you want to feed your better wolf, there isn't a better regular read than this one from my experience.
Buy one for yourself, buy one as a gift or maybe even buy one for your local library.
all good things,
terry