On a finite planet, understanding the meaning of "enough" is crucial to sustain life.A film I saw at a conference last June, "
Growthbusters
" (created in the Michael Moore style) and well worth watching, features a
little clip
from University of Colorado Prof. Emeritus of Physics, Al Bartlett, on the realities of steady growth and our ability to react to its impacts. Using grow
th of bacteria as an example, Bartlett depicts a frightening picture of human response to things they don't notic
e. The warning time available for responses to challenges of steady growth are striking.
My hunch is that 97% of the population is unaware of this growth/response window. I'm not prescient enough to know what might trigger changes that awaken people to recognize the deadly twin growth in CO2 and income inequality or which may happen first or which might cause the greatest unraveling amongst us. The 400 part per million atmospheric CO2 concentration announced earlier this month is accelerating despite many voices raised to warn against the folly.
This issue isn't even on the docket at the US Congress or administration. Instead we focus on a narrow form of measured growth at all costs. The American way - if you're not successful just add more - force, power, money, etc.. More is better.
But what if more isn't better? And more of what? And for whom? This week's
Too Much
newsletter
gives us a few snapshots, as it does every week, of the battle on the inequality front.
The National Association of Manufacturers, the corporate lobby group, has a

new chair

. NAM's choice: the latest hero in executive circles, Doug Oberhelman, the CEO of Caterpillar. Oberhelman's tough-guy labor tactics — he

shut down

one plant when workers refused to swallow a 50 percent pay cut — have sent Caterpillar profits soaring. Oberhelman's

own pay

has jumped to $22 million. Last year, a Caterpillar worker in Illinois who hadn't received a wage hike in 10 years

asked

Oberhelman when he could expect one. The CEO told him that all paychecks at Caterpillar have to stay globally competitive. Oberhelman's chief CEO rival, Kunio Noji of Japan's Komatsu,

took home

$2.1 million in 2012 . . .
or
The typical U.S. CEO pulled in $9.7 million last year, the Associated Press

reported

last week, a 6.5 percent hike over the 2011 chief exec median. The typical U.S. worker last year took about $39,900, a 1.6 percent increase over 2011.
There are alternatives to the Thatcher-Reagan trickle down economics that have lead us to the brink of planetary climate ch

ange and unbelievable inequality

.Two of the newest and best have been mentioned here recently - Molly Scott Cato's The Bioregional Economy
and Enough is Enough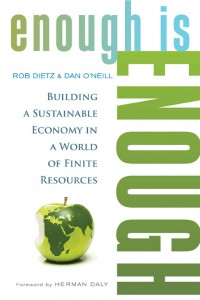 by Rob Dietz and Dan O'Neill and James.

And as I quoted Milton Friedman a few blogs back, we need to have these ideas ready for when the possibility arises that they could be implemented. Prof. Bartlett's eye-opening reminder of the lag-time in human response to the forces of growth should shake us from our slumber.

How much time do we think we have?